Mirrors are always a key hack when talking about home interior design and home staging. They add extra light to the rooms and make the room feel larger. Try to experiment with mirror sizes and sharps. Instead of hanging a large mirror on the wall, make it really stand out. Put mirrors on the walls opposite the windows. Use mirrors as decoration. Find your best spruce-up solution and make your rooms appear more spacious and outstanding.
Home Staging Tip #2: Depersonalize
Before showing your home, make sure to pack up all personal items and replace personal pictures with artworks. This is very important for you to give the prospective buyers a chance to imagine themselves living in your home. You won't be able to that with your pictures everywhere. Instead you could have a nice decorated breakfast table in the kitchen with matching bowls and other stuff to make the feel of family meals. Also put away toys or pet belongings to remove the strong feel of current inhabitants. Buyers will more easily envision themselves living in your home, if you follow this simple and effective hack.
Home Staging Tip #3: Say bye to clutter
Decluttering is one of the most important steps you should take before showing your home. Firstly, you'll make e rooms feel more specious. Secondly, potential buyers won't think there is not enough storage space in your home, which is really a major problem for any buyer. Thirdly, clutter distracts buyers from your home's features. Be sure to get rid of unnecessary items; just don't think of hiding them in closets. By all mean, buyers will be willing to have a look inside each closet as well. Besides, you may add build-in storage, as buyers love it. You'll stage them "hiding" clutter and showing how important that storage spaces are.
Home Staging Tip #4: Used to have a pet? Remove odors
Here we a full article how to sell your home with Pets. Check it out, if you have pets. In addition, make sure nor to have beacon the night before showing. Make your home smell like a family home, not a fast food cafe. If you are handy enough, you mat bake some apple cake or bread. People love these smells. You may also burn some aroma candles, but don't overdo. Some people are allergic to specific smells. In the end make sure to deodorize indoors, if you are smoking at home and take out the trash.
Home Staging Tip #5: Paint, paint, paint
Painting is sometimes the best solution to many problems. This may cost you somewhere around $12-50, but you'll have fresh look of rooms and the right color will help you make the rooms lighter and larger. Choose natural colors, if you don't want to experiment. Or, if it is not out of your budget, ask a designer to choose the right bold color for each room.
Home Staging Tip #6: Bathroom and Kitchen
What do you think are the most important part of your home? Not for you – for a potential buyer. Exactly, they are the kitchen and the bathroom. As a survey done by JustClose found that the most important parts of home for buyers are kitchen and bathroom. So pay special attention to these rooms. Replace old taps and sinks or clean yours to shine like a diamond. Put some accessories in the bathroom to make buyers feel like they are in a spa. In fact, these are the areas that make the biggest difference in a home's selling price. If you are on budget and can't remodel anything here, just hire a professional cleaner and try to give your bathroom and kitchen fresh and brand new look.
Home Staging Tip #7: Let the sun shine in
Natural daylight is another key factor for your home's price. When showing your home open all curtains and let the sun shine in. This will help your rooms stand out. Buyers really love light and airy living rooms. Also put more light fixtures and lamps. Actually they are never too many. So try to brighten your living room as much as possible to brighten your chances of a sale.
Home Staging Tip #8: Add eco-friendly features
Eco- friendly and energy saving features are getting more and more popular today. They cost a little bit higher than traditional ones, but may dramatically impact on your home's value and make it sell faster.
Home Staging Tip #9: Add more storage space. It sells!
As we mentioned above, buyer do love storage spaces. Especially, if your rooms are mall try to add some storage spaces. That may be a built-in or some piece of multifunctional furniture. Organize your rooms and closets so that you can show off how much storage you really have. Pack up all unnecessary things to start getting ready for the move and be able to show how large your closets are.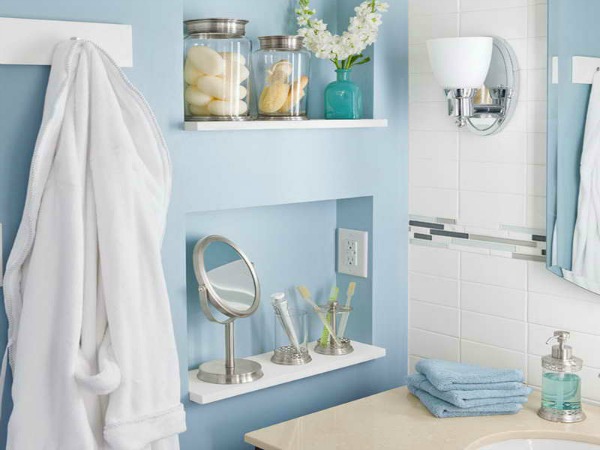 Home Staging Tip #10: Make it feel specious
After all these steps you'll already have a great chance to show how awesome your home is. Rearranage your rooms and make them feel more specious. This is the final step to take and stage your home to sell it like a pro. Replace tables or move them to the corner to have space for showing. Try to have inviting and nice furniture. You can't afford to buy, you may even rent it. Find the right size, color and style for the furniture in each room.